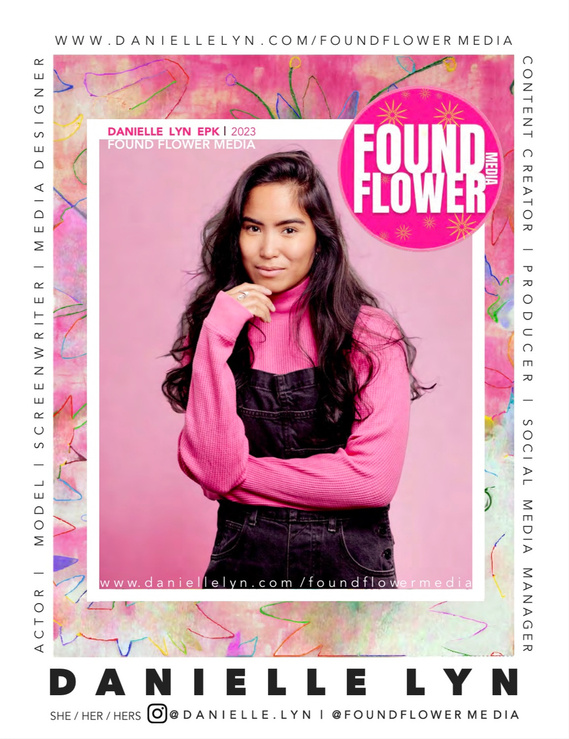 A boutique creative arts firm specializing in digital media, inclusive storytelling, developing original content, and independent film production.
ORIGIN STORY : Found Flower Media has bloomed from life's unknowns. Found Flower Media is the brainchild of multi-hyphenated flower child Danielle Lyn, who's repertoire in digital media, visual art + design, literature, performing arts and a deep rooted passion for storytelling intersects mediums of the digital age, and the printed page. Specializing in creation and development of original scripted narrative content and independent filmmaking in tandem with hands on management of digital needs to help small businesses grow. All clients are provided with a personalized strategy, along with an offering of media services, web design, web maintenance & social/e-commerce management.
MISSION STATEMENT : The Found Flower Media creative process is driven by one to one human connection and underlined by a commitment to the amelioration and sustainability of our shared planet while cultivating a diverse inclusive outreach to positively impact community landscapes locally, and globally.
CLIENTS
Small Business | Digital Media
INQUIRIES
Please reach out via the form to chat about your digital media needs, or inquire about services, and get connected! Found Flower Media is accepting NEW clients. Individual rates are quoted per clients budget and tailored to producing cohesive digital visuals that the small business and/or individual artist can afford. I am here to help tell your story (in all mediums) more accessibly, and inclusively for all. Follow @foundflowermedia on Instagram!
Written Works, Manuscripts, Original Screenplays:
WGA scripts, treatments and concept library available upon request.
SUBSCRIBE TO KEEP IN TOUCH
Sign up with your email address to receive updates.